Chemical Peel
Estimated reading time: 4 minutes
Our extensive selection of chemical peels varies in intensity and type to rejuvenate your skin and leave you feeling refreshed.  Chemical peels are used to treat wrinkles, skin discoloration, and scars, among other skin maladies, and treatments can be done alone or in combination with other cosmetic procedures.
PEOPLE LOVE CHEMICAL PEELS BECAUSE:
Peels can make your skin—and skincare products—work better
Low risk and you may not "peel" at all!
Helps to end acne and improve scars
Reduces damaging effects of Hyperpigmentation and Melasma
Shrinks the appearance of pores
Lightens dark under-eye circles
Are you ready to Schedule Your Appointment? Click HERE to book today for $25 and meet with our board-certified medical professionals to determine your customized skin care plan. Love the skin you're in!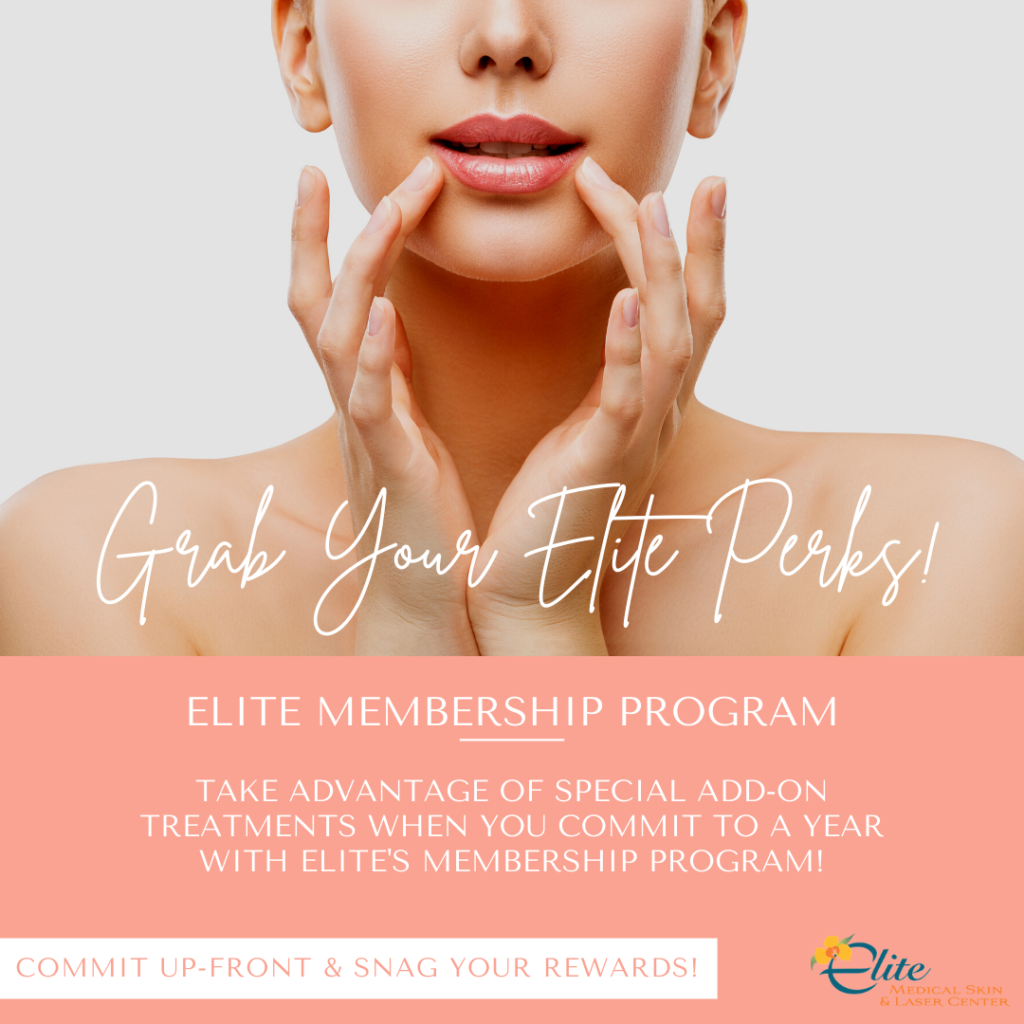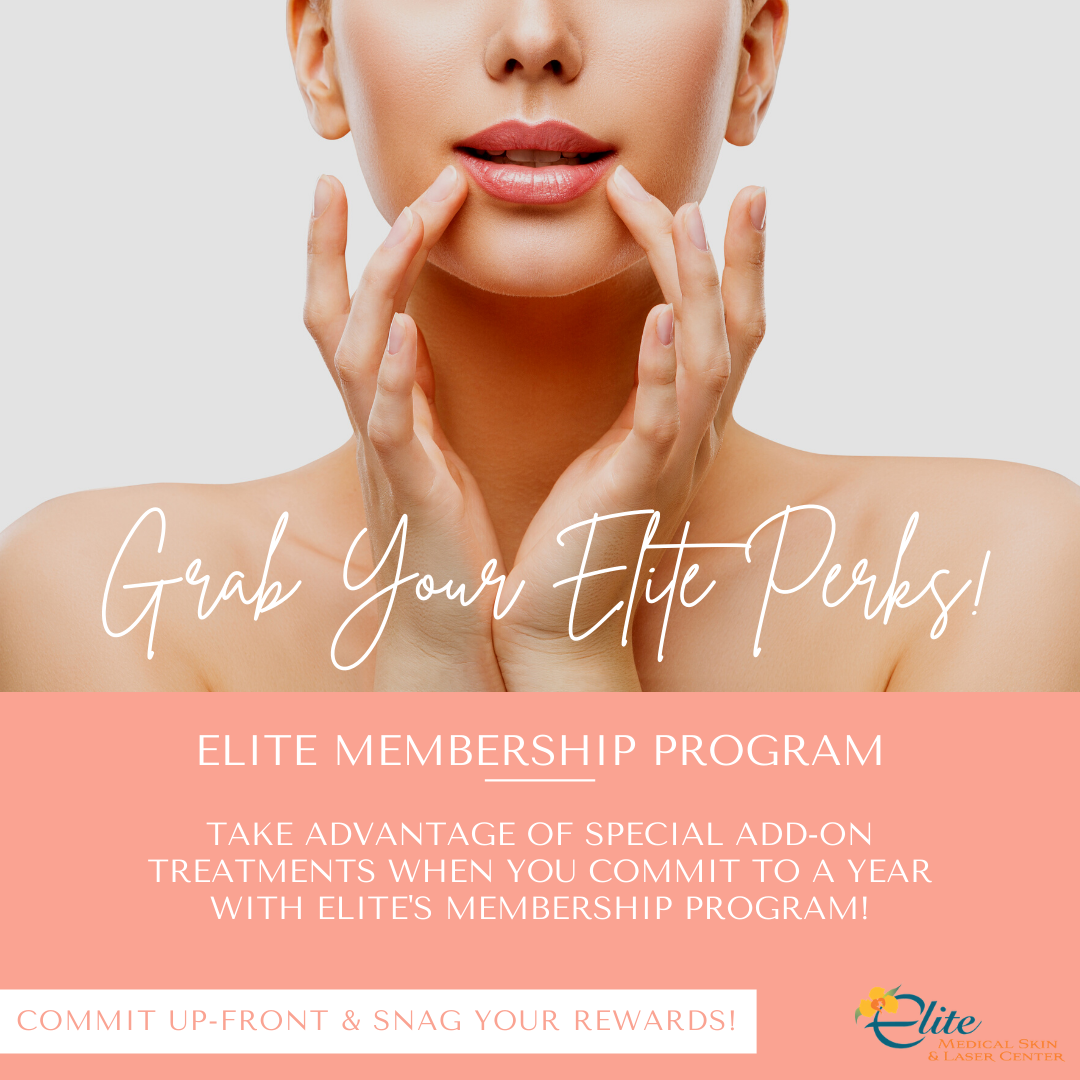 At some point it is hard to ignore the vivid signs of aging you see in the mirror – little wrinkles around your eyes or lips, age spots, maybe some sagging skin – there used to be few options for turning back the clock without going under the knife. But today, you can soften the effects of time on your face with many nonsurgical cosmetic procedures.
We are excited to offer you an opportunity to take advantage of all of our anti-aging treatments for ONE low monthly price based on one of our three Elite Membership Levels! No more saving up and waiting to buy a package. No more choosing just one treatment at a time. With our Elite Membership program, we have a way for you to have it all, all year long.
FREQUENTLY ASKED QUESTIONS
How does a chemical peel work on my skin?
Peels help remove damaged outer layers of skin and allow new layers of skin cells.  It has both cosmetic and medical benefits. Cosmetically, it improves pore size, hyperpigmentation, and fine lines.  Medically, a peel can help improve acne, fine lines, and pigment, and reduce skin build-up. In simple terms, a chemical peel uses ingredients to penetrate to deep levels in the skin to rejuvenate skin and reverse the signs of aging and sun damage.  We recommend this treatment to those who will benefit from the ingredients that are introduced during the PCA Skin chemical peel process.
Typically, during a peel, we first cleanse the face to remove any skin oils that may inhibit how solution absorption.  Once we apply the chemical peel to treated areas, the treatment provider will leave it to dry for a set amount of time.  The peel will then work from the inside out, gradually improving your skin.
What are the different types of chemical peels?
SUPERFICIAL OR "LUNCHTIME" PEEL
Your technician will use a mild solution called a Sensi-Peel during your treatment. The smoothness and brightness of your skin will be the most noticeable improvement you see after this treatment. When you receive a superficial treatment, you may not peel at all. We use the brand PCA Skin, and they designed their chemical peels to correct problem areas, not to be invasive. If you do peel it will be mild flaking and you can wear make-up, provided its mineral make-up, during the light "peeling" process you may experience.
MEDIUM PEEL
We use a modified or enhanced Jessner peel to accomplish this treatment. Like the superficial peel, this treatment will help with skin texture and discoloration. However, the results are more noticeable and longer-lasting. Medium peels are also recommended to help with actinic keratosis. As with all PCA Skin chemical peels, peeling doesn't always happen, but you will still notice the effects of the ingredients. If you do peel, it is typically only flaking and can last from two days to one week after treatment. You can wear mineral make-up, and most clients will continue with "business as usual" with no downtime required.
DEEP PEEL
Our deeper chemical peels use TCA as the main ingredient. This treatment will help remediate moderate scarring and skin discoloration. It also helps improve age spots and minimizes fine lines and wrinkles. You may see a more intense redness and peeling with the deeper chemical peel treatment. But, our PCA Skin chemical peel line works to correct any problem area and is not always accompanied by peeling.
How do I know which type of peel is right for me?
At Elite Medical Skin and Laser Center, our medical-grade peels are designed to target the skincare needs of all of our clients. We can modify each peel for your skin type, resulting in a flawless finish. We are proud to have reputable chemical peel experts on our team, and we can't wait to get to know you! Click HERE to schedule your appointment today!
| | |
| --- | --- |
| Monday | 9:00 AM - 7:00 PM |
| Tuesday | 9:00 AM - 9:00 PM |
| Wednesday | 9:00 AM - 7:00 PM |
| Thursday | 9:00 AM - 9:00 PM |
| Friday | 9:00 AM - 7:00 PM |
| Saturday | 10:00 AM - 2:00 AM |
| Sunday | Closed |