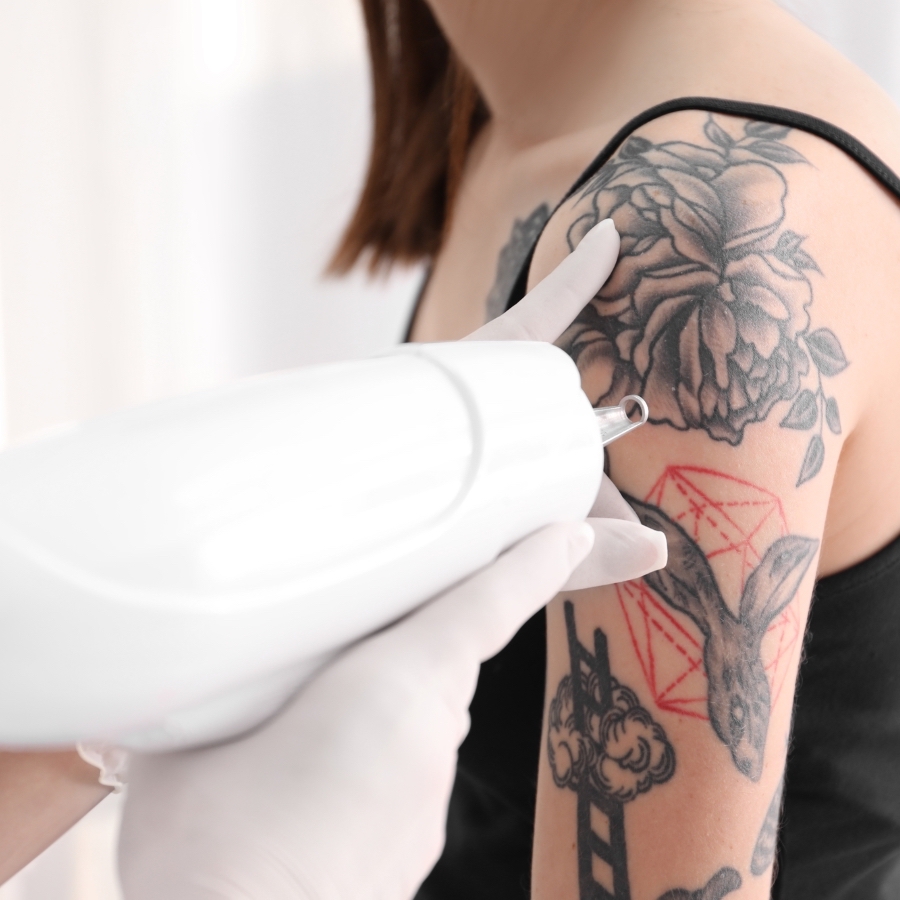 Laser Tattoo Removal
Regret the ink? We have the answer.  Laser Tattoo Removal is the best way to remove unwanted ink.
Tattoo removal has been around since the start tattooing.  It is estimated that close to 25% of the U.S. population has some sort of tattoo.  Eventually, as many as 50% of those people want to have it removed.  There is good news for those who have that unwanted body design because it is now possible to remove a tattoo with laser treatments.
At Elite Medical Skin and Laser Center, we can eliminate your tattoo with minimal side effects.
HOW DOES LASER TATTOO REMOVAL WORK?
Tattoos are created by injecting pigment into small holes in the skin made by a metal needle.  This colored pigment is relatively permanent.  In order to remove that pigment, it needs to be broken up into particles and then digested by the body's immune system.
We use Alma Harmony Laser, a laser that breaks up the pigment colors of the tattoo with a high-intensity light beam. Black tattoo pigment absorbs all laser wavelengths, making it the easiest to treat. But we can treat all tattoo colors.
Medical Grade Skin Care You Can Trust
Let's Schedule Your Consultation Today! Our board-certified medical professionals utilize state-of-the-art technology to perform pain-free, medical grade skin care procedures that yield incredible results.
Become An Elite Member Today!
Contact Us For Details!
Get up to $1500 in treatments for FREE simply fill out the form below
FREQUENTLY ASKED QUESTIONS
HOW LONG DOES THE PROCESS TAKE?
The length of the process depends on the size of the tattoo you would like to remove or the treatment area. During your initial consultation, your treatment provider will discuss how many treatments are needed to permanently remove your tattoo ink.
The process length also depends on the ink used in the tattoo. Since the tattoo industry is not regulated, there are thousands of inks available for an artist to use.  Some are metallic, which can make the process longer. Until we start removing your tattoo, there is no way to determine the number of treatments you will need.  On average, our clients begin to see their ink fade after four treatments, and in most cases, they will see their tattoo completely eradicated after 6–12 treatments.
IS LASER TATTOO REMOVAL PAINFUL?
Yes, the process is a bit painful, but we try to make you as comfortable as possible during your treatment.  There may be some bleeding and swelling at the sight during treatment. We can tell you that the removal process is, in most cases, less painful than getting the tattoo was and we do use a topical numbing agent to help the treatment be as comfortable as possible.
WHAT SHOULD I EXPECT FOR AFTERCARE?
We recommend that you keep the area you plan to have treated covered and as clean as possible the week before treatment. After treatment, you can expect the site to possibly blister and then scab. We recommend that you bandage the treated area for a few days afterward and use lotion like Aquaphor to help the healing process. Also, depending on your skin, there is the potential for scarring. We also recommend applying our sunblock, Elta MD, to the area once it has healed.
It is safe and effective, and you'll love the results! Schedule your laser tattoo removal appointment today.