BOTOX® Cosmetic
What Is BOTOX®?
BOTOX® Cosmetic is a simple, nonsurgical, physician-administered treatment that can temporarily smooth moderate to severe frown lines between the brows, on the forehead and around the eyes.  It is the only treatment of its type approved by the Food and Drug Administration (FDA).  Therefore, these injections are the fastest-growing cosmetic procedure in the industry according to the American Society for Aesthetic Plastic Surgery (ASAPS).  In 2001, more than 1.6 million people received injections, which is an increase of 46% over the previous year.  In 2005, almost 3.3 million procedures were performed with BOTOX®.  More popular than breast enhancement surgery and a potential blockbuster, BOTOX is regarded by some as the ultimate fountain of youth! For more information and answers to frequently asked questions visit botoxcosemtic.com
One 10-minute treatment—a few tiny injections—and within days there's a noticeable improvement in moderate to severe frown lines between the brows, on the forehead and around the eyes, which can last up to 4 months!
Why Would I Get BOTOX®?
Over the years, as our skin and muscles start to age, our facial expression lines become more pronounced.  These lines help us to convey to our friends and family a wide range of emotions.  Some facial expression lines can denote fatigue or anger, even if we aren't feeling that way.  This is especially true of lines on the forehead and between the eyebrows.  Crow's feet may make us appear older than our chronological age. But there is hope with BOTOX®!  It blocks the nerve impulses that tell those muscles to move, revealing a fresh, healthy you.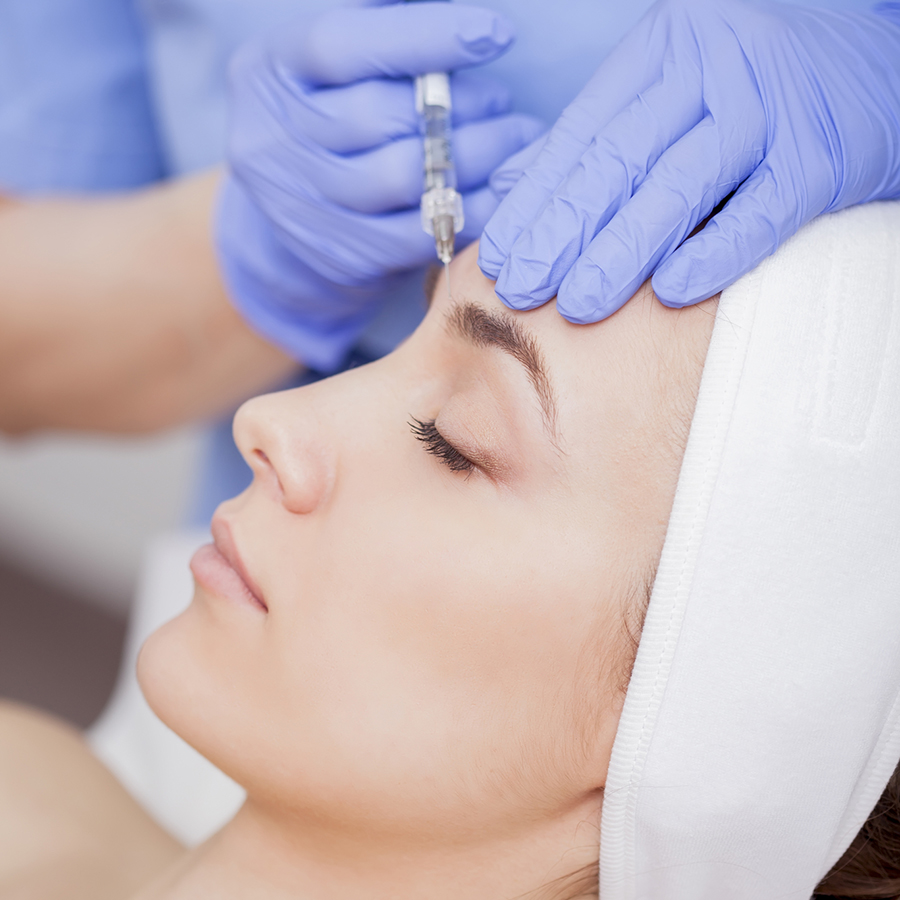 Medical Grade Skin Care You Can Trust
Let's Schedule Your Consultation Today! Our board-certified medical professionals utilize state-of-the-art technology to perform pain-free, medical grade skin care procedures that yield incredible results.
Dermal Fillers
What Are Dermal Fillers?
Dermal fillers help reverse the changes associated with aging.  The goal is to return the skin to its original youthful state, which is why dermal fillers are great! They give a more natural appearance than surgical face lifts.  Dermal fillers reduce or remove wrinkles, raise scar depressions, enhance lips and replace soft-tissue volume.
Dermal fillers are substances injected below the surface of the skin to fill in lines, wrinkles, and scars. Unlike facelifts that stretch the skin, fillers add volume for a more natural youthful appearance.  Fillers can also increase the fullness of the lips and lessen the downward slant of the corner of lips.  The most common areas treated are smile lines around the nose and mouth, fine lines above the mouth, frown lines between the eyes, and acne scars.
We offer multiple filler brands at Elite Medical Skin and Laser Center.  We will determine the best one for you at your consultation.
Contact us today to learn more about BOTOX and Dermal Fillers and our other cosmetic skin care treatments. Call us at (281) 214-7777 to schedule a consultation.
Become An Elite Member Today and See Below How Much You Can Save!
Juv Volbella XC: (0.55 ml)
Juv Volbella XC: (1.0 ml)
Contact Us For Details!
Get up to $1500 in treatments for FREE simply fill out the form below