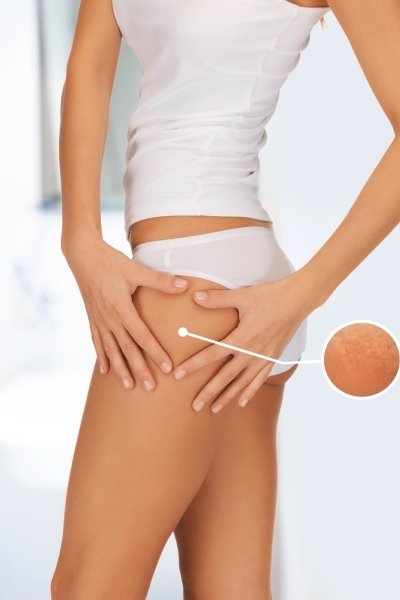 Reduce Cellulite, Tighten Skin & More
Body Contouring
Do you want tightened, toned skin with minimal cellulite? Our innovative FDA-approved Viora Reaction™ body contouring procedures can re-contour your body and improve your skin's tone and texture. There are no side effects and no downtime after the procedure. We use body contouring services in order to achieve the following:
Cellulite Reduction - body contouring is designed to treat cellulite at its source and provide lasting results. Treatments last up to 30 minutes.
Skin Tightening - body contouring strengthens the collagen under your skin, resulting in firmer cheeks, brows, forehead, neck, and more. Treatments last up to 20 minutes.
What is Viora Reaction™ Body Contouring?
Viora Reaction™ body contouring is the first and currently the only FDA-approved treatment of its kind and is one of our top-requested services. This body contouring combines radio frequency energy and vacuum therapy, safely and comfortably stimulating the body's natural healing processes.
Cellulite Reduction
By targeting large fat deposits, the radio frequency waves move deeply underneath the skin to increase metabolism and reduce the volume of fat cells. Vacuum therapy then increases blood circulation and improves lymphatic fluid drainage. This process usually takes up to 30 minutes with minimal discomfort and benefits areas of the body where cellulite is most commonly present -- the abdomen, thighs, underarms, and buttocks.
Skin Tightening
Collagen fibers can weaken over time due to age, significant weight loss, and other factors. This is where Viora Reaction™ comes in! Its radio frequency waves bond and strengthens your existing collagen. This contraction of loose or sagging skin creates immediate tightening effects on common areas where excess skin is visible -- the cheeks, brows, jowls, sensitive areas of the eyes and forehead, neck, and upper torso. In some cases, skin tightening has reduced the appearance of stretch marks on the hips, calves, and underarms.
Are There Any Side Effects?
Viora Reaction™ body contouring and skin tightening are designed with comfort and safety in mind. There are no common side effects if all guidelines and precautions are followed. Our treatment providers are extensively trained and treatments typically require no downtime. Our staff will inform you prior to treatment of any additional safety information you might need to know.
For optimal results, patients are often advised to receive 4-8 sessions for cellulite reduction and 3-5 sessions for skin tightening. Our medical team will use their knowledge of various skin types and conditions to create a treatment plan that is tailored to you. Generally, body contouring gives our patients effective results in a short amount of time.
To learn more about the procedure and our other cosmetic skincare treatments, don't hesitate to contact us today. Call Elite Medical Skin and Laser Center at (281) 214-7777 to schedule a consultation appointment at your earliest convenience.